Tips for living and working remotely from Puerto Viejo de Talamanca, Costa Rica
Digital nomad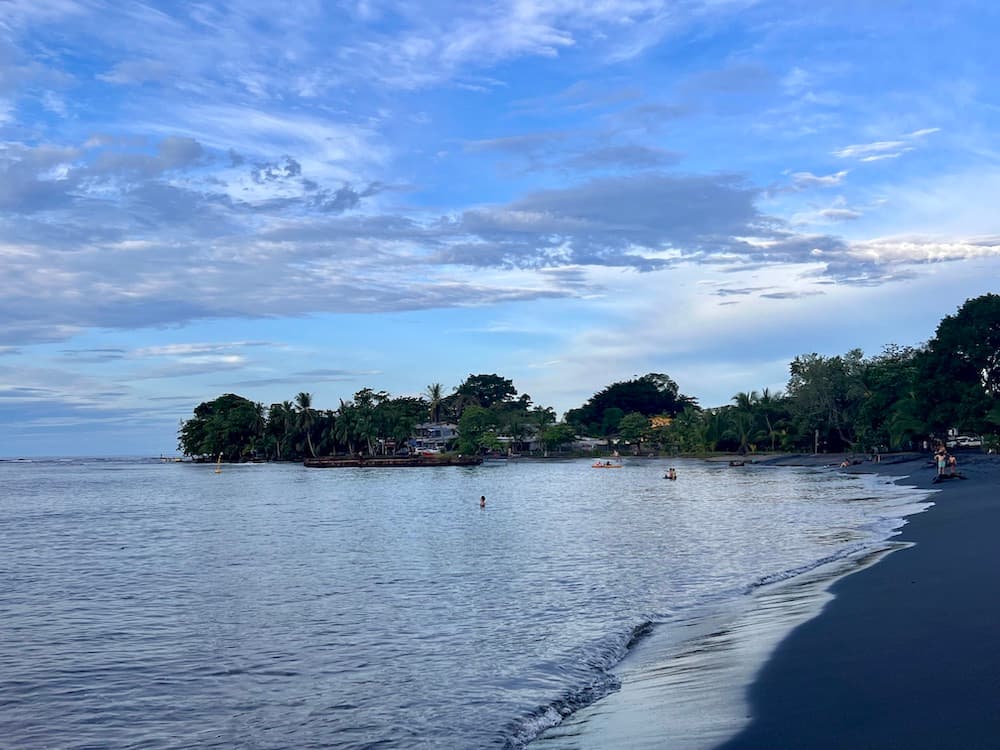 During our stay in Costa Rica, Puerto Viejo de Talamanca was our initial stop for 1 month. We loved it. My partner and I are more interested in connecting with the local culture than in doing tourist activities, so we headed to the more authentic, relaxed and less visited Caribbean side. With this post, I want to honor Puerto Viejo and share useful information for when you plan to come here, especially if you work remotely and plan a long stay.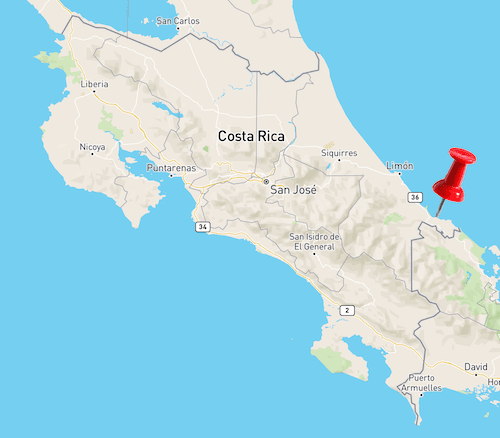 ---
Infrastructure in Puerto Viejo
This is the Caribbean side of Costa Rica. It isn't as bad as they say, but it can be rough.
As digital nomads, the main issues we faced were the occasional cuts of electricity or internet. It happened every few days, and it could last from 30 minutes to a few hours. Most of the time, the outage affected the entire town, but once it was only our street so we went to work to a nearby café until they fixed the issue. That's why now I always bring a book with me and take it easy. If you spend your days in online meetings, then there's a high chance you'll miss some.
There are also occasional water cuts. During our stay of 1 month, it happened twice. Houses and hotels usually have water tanks to compensate, but I still recommend keeping some large water bottles at your place in case everything else fails.
Streets often don't have pavement and bridges are too narrow for 2 cars. Also, some traffic rules aren't respected much. That said, driving in Costa Rica is very easy, provided you follow Google Maps, since there aren't enough road indications. If you're staying in Puerto Viejo some weeks, I think it's better to not rent a car during that time, and just get bicycles or scooters when you want to go out of town, like to the nearby beach of Playa Chiquita that we loved.
---
Where to work from in Puerto Viejo?
Wi-Fi in Puerto Viejo isn't fast, but at least it's good enough for videoconferencing. We didn't really find a place with a fast connection. I remember my frustration when installing codebase dependencies, a process that downloads many megabytes and took minutes compared to the few seconds that I'm used to.
Possibly the coworking in the center or Selina have better connections, but we didn't check.
My favorite spot: AmaSer, a vegan restaurant café with chill vibes surrounded by nature
AmaSer is a small complex with accommodation, a vegan café restaurant overlooking the town, and daily yoga classes. The tables are comfortable for working. Almost everybody staying there is international and into yoga. I found it was a place where I could easily focus, but also relax having a delicious meal or smoothie.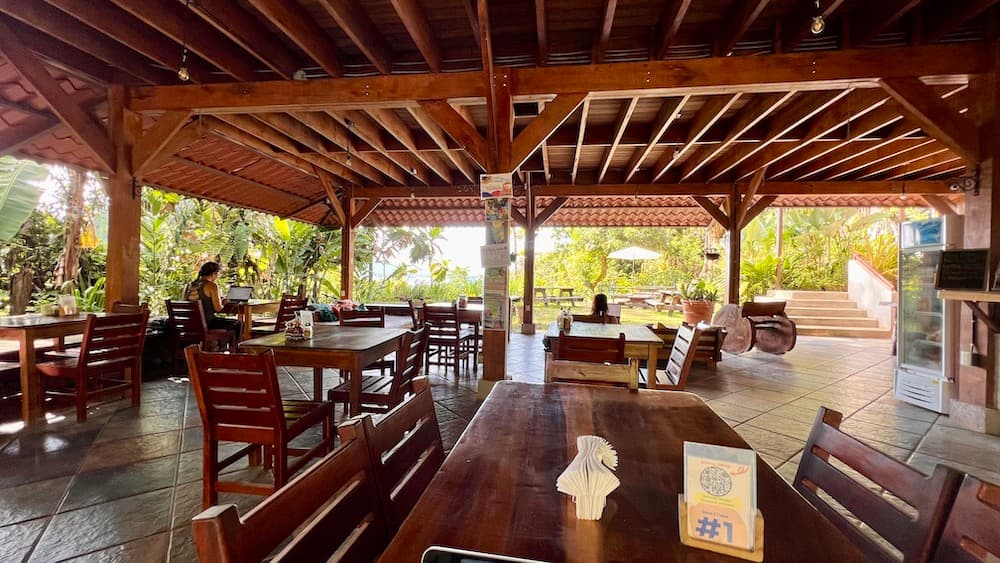 Grow, working in front of the beach
The music is louder at Grow Puerto Viejo, so it can be harder to focus, but they have relatively good connection and very good vibes. Their coffee, smoothies and desserts are excellent.
It's right in front of the beach. Being there, enjoying the views, made me remember how much I love being a digital nomad.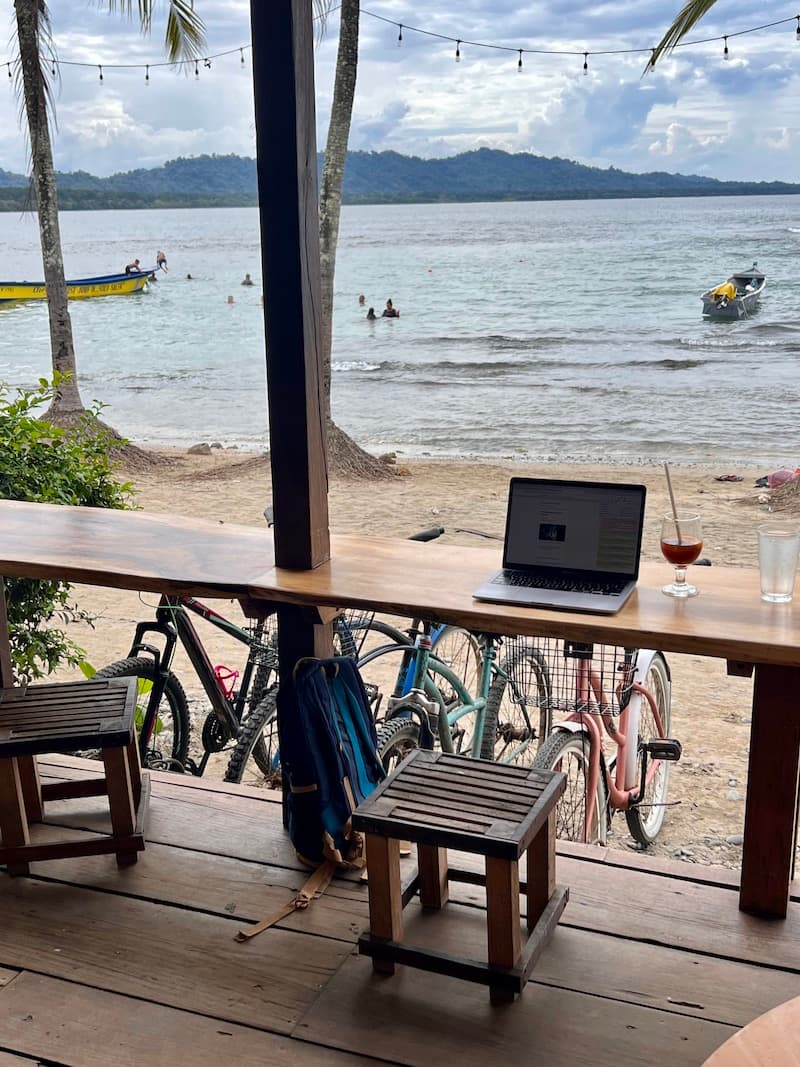 Hotel Banana Azul, relaxed atmosphere with more comfort
Half an hour walking by the beach you'll find the Hotel Banana Azul. It's a fancy hotel with a nice restaurant, a beautiful garden, and bar service in the beach. We enjoyed working there during the day. Most the time, they play chill reggae versions of pop songs in the background, very soothing and perfect for focus. Just remember to head back before the night sets if you're coming back by foot.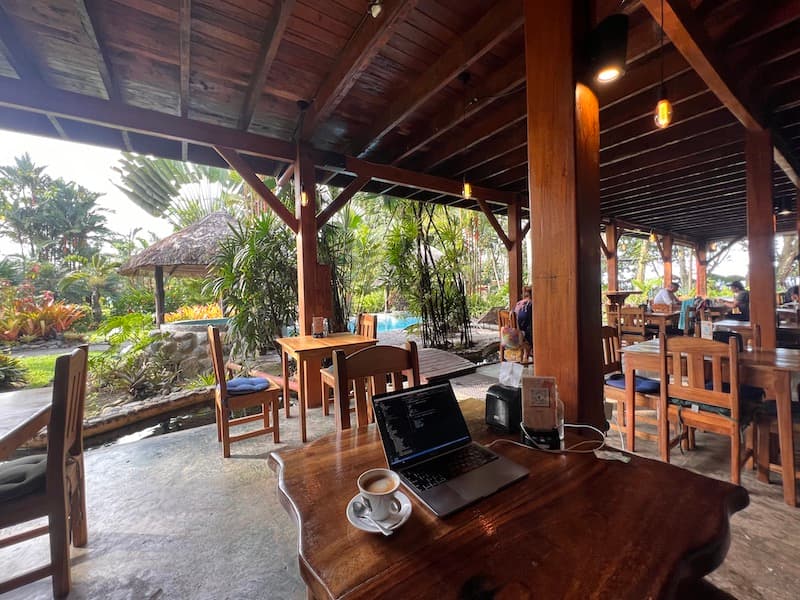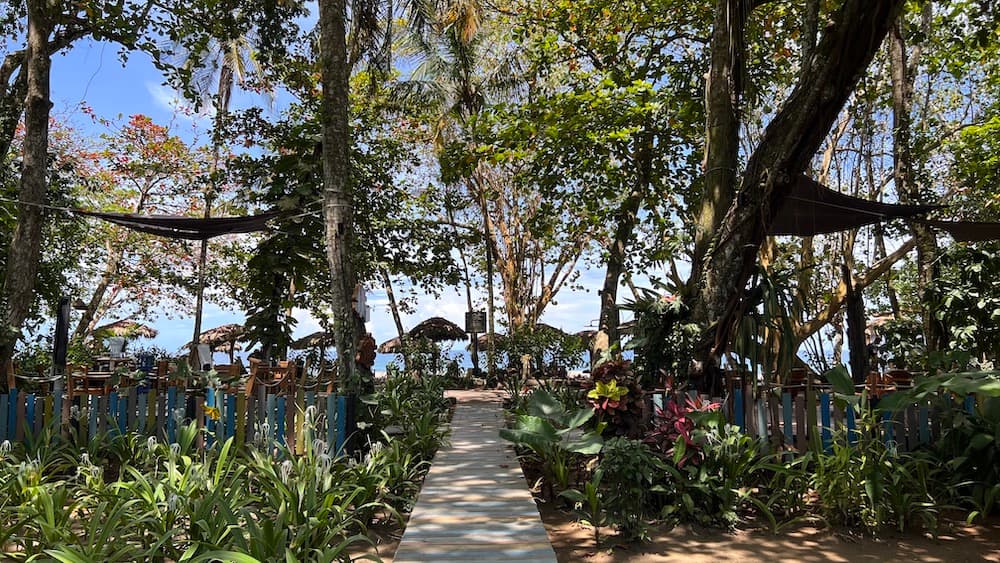 Coworkings in Puerto Viejo
There's a coworking in the center of town, but during our stay it was closed for renovation. Probably it would be a great place to work from, being so conveniently located.
Selina also has a coworking that you can go to, but it's just one room packed with tables and we found it very dark. Not pleasant and also not convenient for doing any calls. Selina has however their own internet line, so if the rest of town loses internet, they might still have.
---
Weather in the south Caribbean of Costa Rica
We thought the weather seasons in Costa Rica were the same throughout the country, but they aren't! Apparently, while other parts of the country have more differentiated rainy and dry seasons, here in the south Caribbean some months have more rain than others, but in general it rains a bit almost every day. Both locals and expats living there agree the weather in Puerto Viejo is always nice.
The sea does behave differently in September, according to the locals. Puerto Viejo is good for surfing, but not during this month. During September the sea is generally calm, some days completely still. Very pleasant for enjoying the beach and taking baths!
It's funny how, when checking in Google, it seems the weather every day is terrible. We were very scared about this! But in reality, the weather is pleasant most of the day. Yes, there are thunderstorms almost daily, but they don't last long and often happen during the night.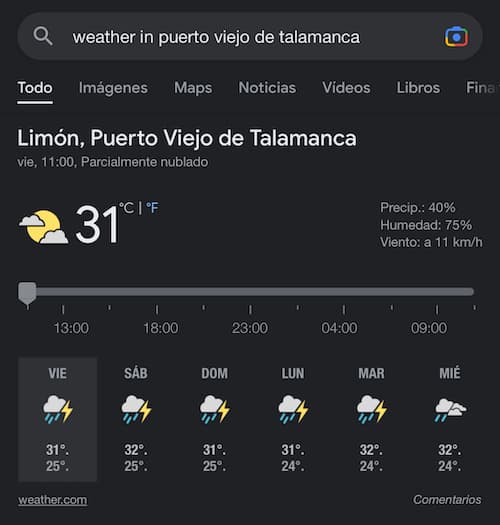 ---
Places to visit around Puerto Viejo de Talamanca
These were my favorite places, all reachable by car, tuk tuk, bicycle or scooter:
Playa Chiquita: a very relaxing, idyllic beach, with the tree line very close to the sea.
Cahuita National Park: it was incredible because we saw snakes, monkeys, raccoons and anteaters. Don't do only the first part of the park! Take the path all the way from Cahuita to Puerto Vargas and you'll enjoy amazing beaches just for yourself. Note the entrance is a bit far so maybe better to go by bus, taxi or scooter.
Punta Uva: a more local experience, with plenty of ticos and people selling food. It was amazing here to see the pelicans fishing at the end of the day.
Locals told us also about the amazing waterfalls near BriBri, although we didn't visit. Next time!
We also did a chocolate tour around Puerto Viejo, and it was awesome to learn more about the plant and the process to produce chocolate, real delicious chocolate!
---
Food
I think it's better to immerse oneself in the local traditional cuisine of rice and beans, patacones, casados, chifrijos, etc. The few times we had non-local food, like burgers or pizzas, they were not so good. The only exceptions were AmaSer and Grow, which both offer delicious vegan food.
My top places where:
Madre Tierra, with peace and love vibes and delicious food, right in Puerto.
Mi Tierra, a traditional place with abundant and delicious food, typical from Costa Rica. Jose, the owner, is very chill and will treat you generously when you're nice!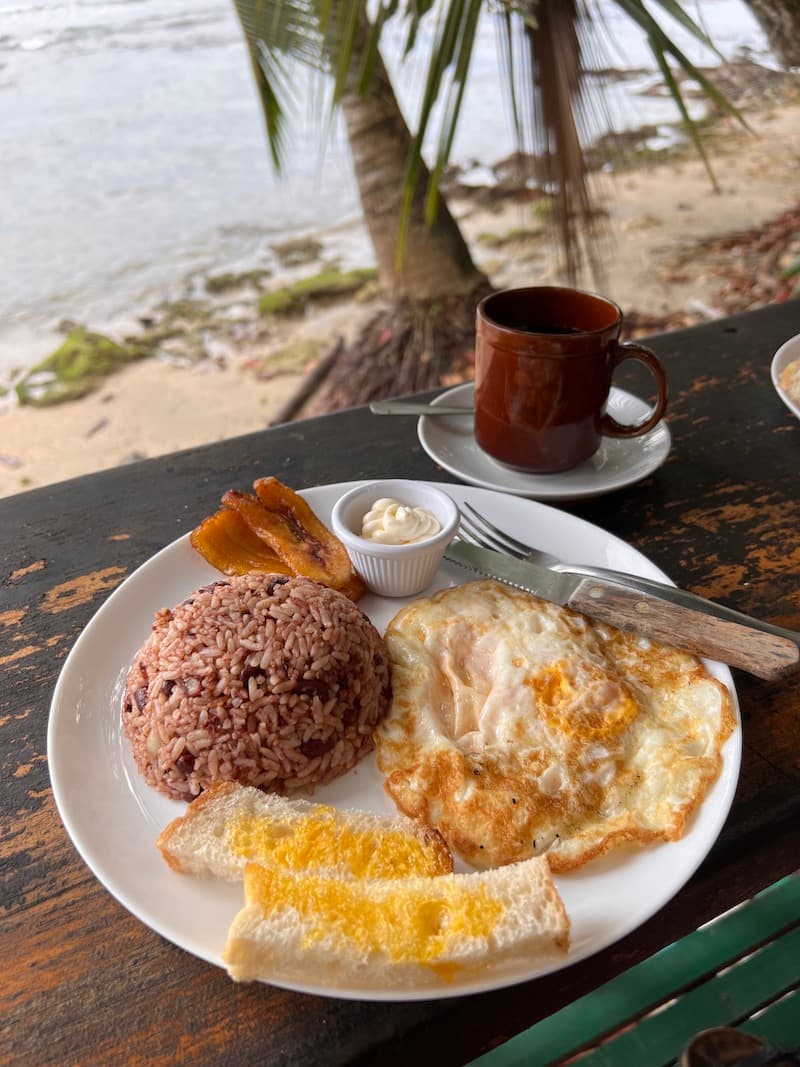 ---
Other Tips
Tuk tuks are a good option to move around. Do ask a local how much they should charge you for the journey, so they don't scam you with a high tourist price.
Don't be afraid to use non-official taxis, just remember to negotiate the price first. We paid ₡5000 for a ride from Playa Negra to BriBri.
If you work outside home during the late afternoon, take insect repellent. You might be thankful for it when you start feeling the mosquitoes.
If you want to stay in a restaurant and not spend much money, go for a "pipa", which is a coconut. They are cheap, delicious and healthy!
More restaurants accept credit card than what we expected.
The Saturday morning market at Puerto Viejo was the best way to get quality vegetables.
---
Photos from our trip in Puerto Viejo